MICE in Thailand is back as we know it as BITEC also being the venue for many international and domestic organizers to organize their events with a successful number of visitors total of more than 300 exhibitions and events that conclude more than 2 million visitors at BTIEC in 2022.
METALEX exhibition in NOVEMBER 2022 is a good example of full returns as the world's number one metallurgical trade show in the ASEAN region. Held under the concept "ASEAN Community Connector", the show will bring together around 86,000 international industrialists along with the exhibition of the machine and metallurgical technologies of over 2,500 brands representing 50 countries, and 9 international pavilions at BITEC.
Also, after COVID-19 restrictions were relaxed, BITEC helped to accelerate the economy according to the government policy by building confidence in Thailand's MICE industry. Bangkok International Trade and Exhibition Centre (BITEC) announces its readiness to welcome back the international exhibition and domestic trade show with certified with four outstanding awards including Thailand MICE Venue Standard: TMVS, Environmental Management System: ISO 14001:2015, MICE Security Management System: TIS 22300:2551 and Gold Class Food Safety in Mass Catering Standard ensuring its international standard strength to draw event organizers and exhibitors in a both domestic and international scheme to choose BITEC as a venue for MICE activity in ASEAN.
In 2022 additional sustainable standards to welcome trade exhibitions to a new era for sustainability ISO20121:2012 SUSTAINABILITY MANAGEMENT SYSTEMS: ESMS).
BITEC STEPS TOWARDS SUSTAINABILITY EVENT MANAGEMENT SYSTEM ISO20121:2012 SUSTAINABILITY MANAGEMENT SYSTEMS: ESMS)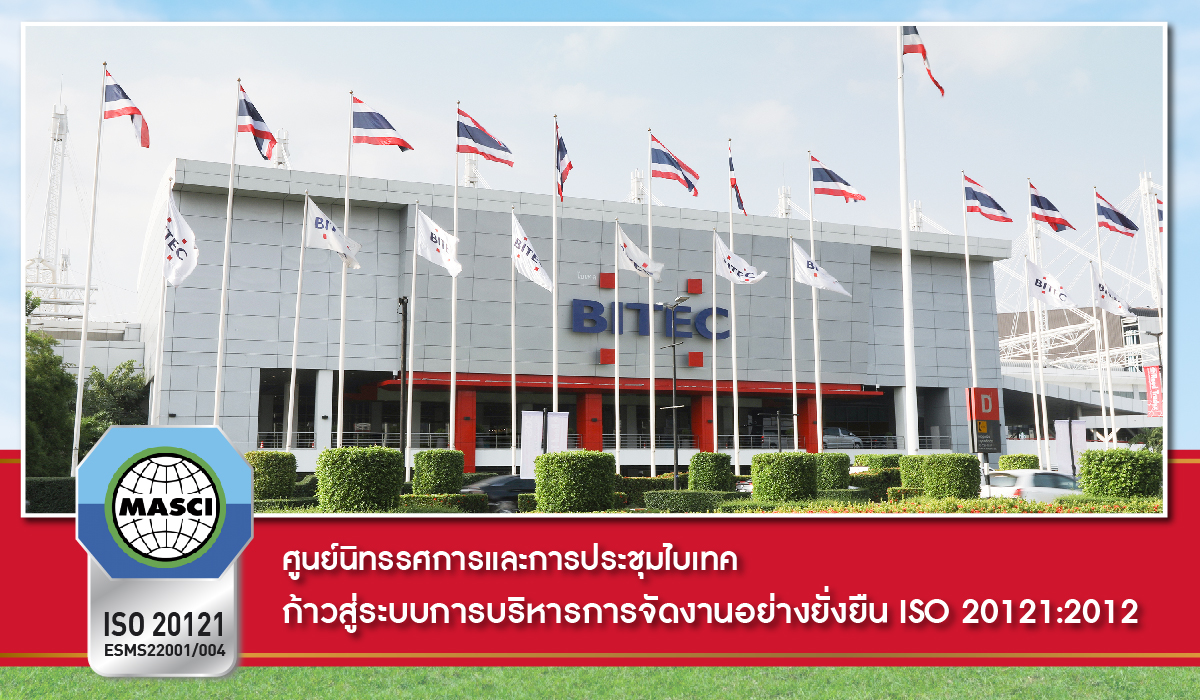 As well as adopting sustainability issues as operational guidelines, taking into account environmental and social responsibility, with a focus on continuously improving the service process. Therefore, the company has implemented a sustainable event management system in accordance with ISO 20121:2012, which can identify operating cost savings, improve the image and reliability of the event, know the environmental impact, and monitor and control the impact with continuous improvement.
About Bangkok International Trade and Exhibition Centre (BITEC)
Bangkok International Trade and Exhibition Centre (BITEC) is one of the top five best convention and exhibition centres in Asia-Pacific. With a total area of more than 53,000 square metres, BITEC offers comprehensive services and facilities such as food courts and restaurants, more than 4,000 parking spaces, the premium office 'BHIRAJ TOWER at BITEC' and many more. The location is easily accessible by BTS Bang Na Station via exit E13, BHIRAJ TOWER entrance, through the skywalk that leads directly to the Welcome Hall.
For further more information, please contact:
Please visit www.bitec.co.th or call +662 726 1999 ext. 7101 email [email protected] for further information about the package and update from BITEC.