"a leading event
venue in Bangkok"
BITEC is a world-class venue for meetings, incentives, conventions and exhibitions located in the heart of Bangkok. Offering several large scale, multi-purpose event halls and comprehensive exhibition services, BITEC is the first choice for exhibition and conference organizers around the world.
Since opening in 1997, BITEC has become an internationally recognised venue for MICE events. Our quality and professional service teams and comprehensive facilities make us one of the most sought after venues in Asia.
BITEC is a proud member of Bhiraj Buri Group, with over 30 years of success in office building, exhibition, event venues and convention centres. By developing buildings in strategic locations and providing a professional identity to our customers, Bhiraj Buri Group properties are distinguished by contemporary architectural excellence whilst addressing the sustainable growth of the community and landscape.
BITEC's expansion has been delivered a mixed–use, multi-purpose facility complete supporting a world-class exhibition and convention centre integrated with retail and dining space, a world-class convention and meetings venue called BHIRAJ Convention Centre, as well as a Grade-A office tower known as BHIRAJ Tower at BITEC.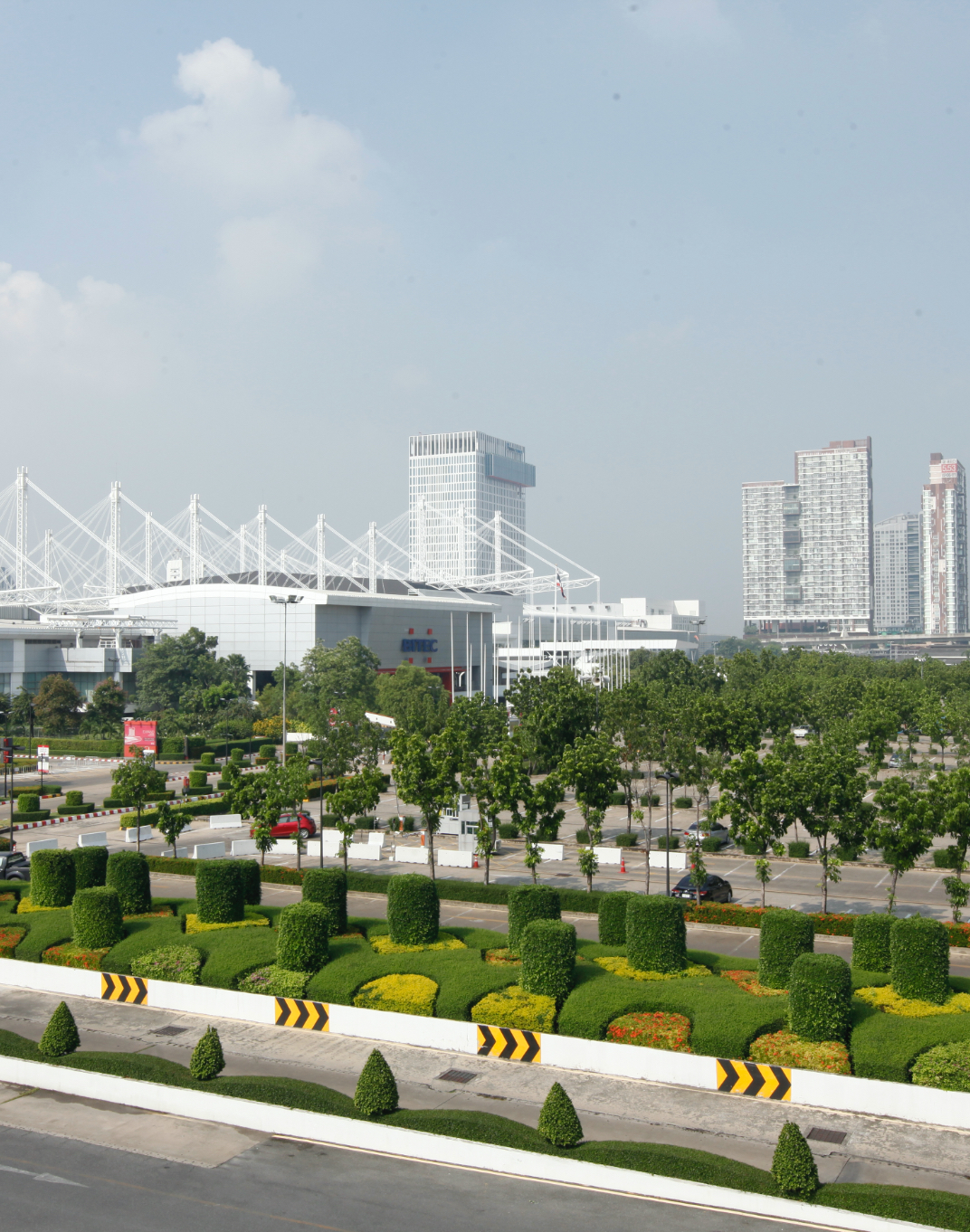 BITEC has successfully hosted a variety of international conventions and welcomed numerous delegates from around the world. With a total event space of 70,000 sqm, the purpose-built facility comprehensively addresses the needs of convention organizers who choose the facility for its connectivity, accessibility, quality and professional services. The vast, column-free event venue has been custom-designed for ease-of-use and accommodates up to 40,000 delegates within fully flexible spaces that include 10 expansive exhibition halls, 6 grand convention halls and 28 breakout meeting rooms.
HIGHLIGHT Activity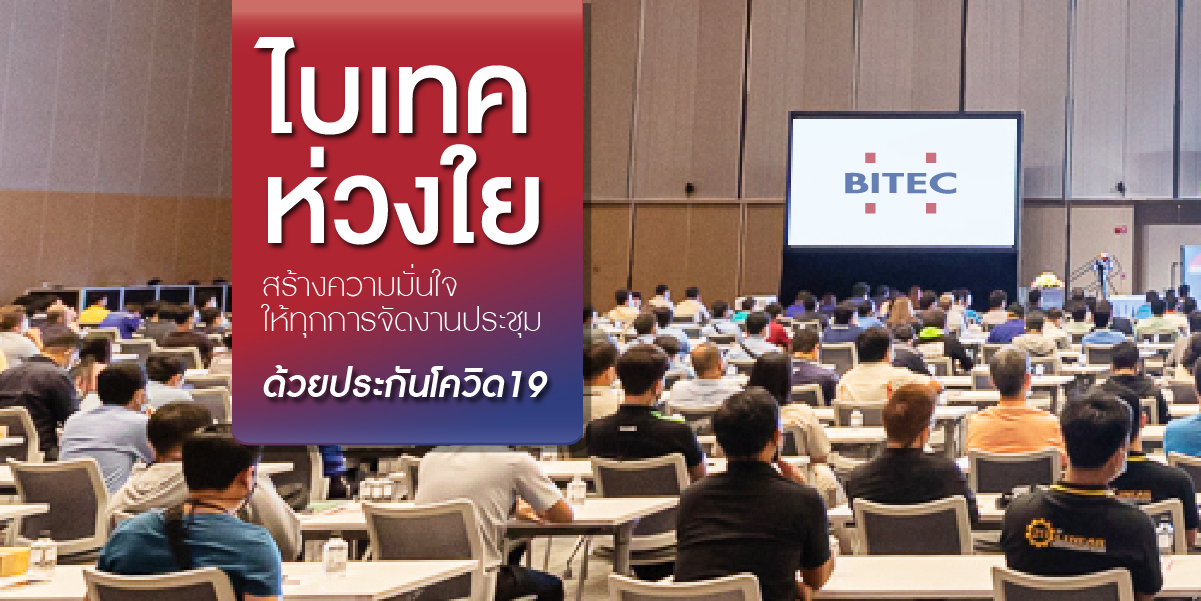 Bangkok International Trade & Exhibition Centre (BITEC) reaffirms their premier world-class standard by offering a comprehensive meeting package with an offer for a COVID-19 insurance by Asia Insurance. Customers will receive 30-day COVID-19 cover starting from a participated date, which including coverage of up to THB 500,000 for medical expenses due to injury or sickness from the pandemic. This comprehensive package is available from now until 30 September 2021.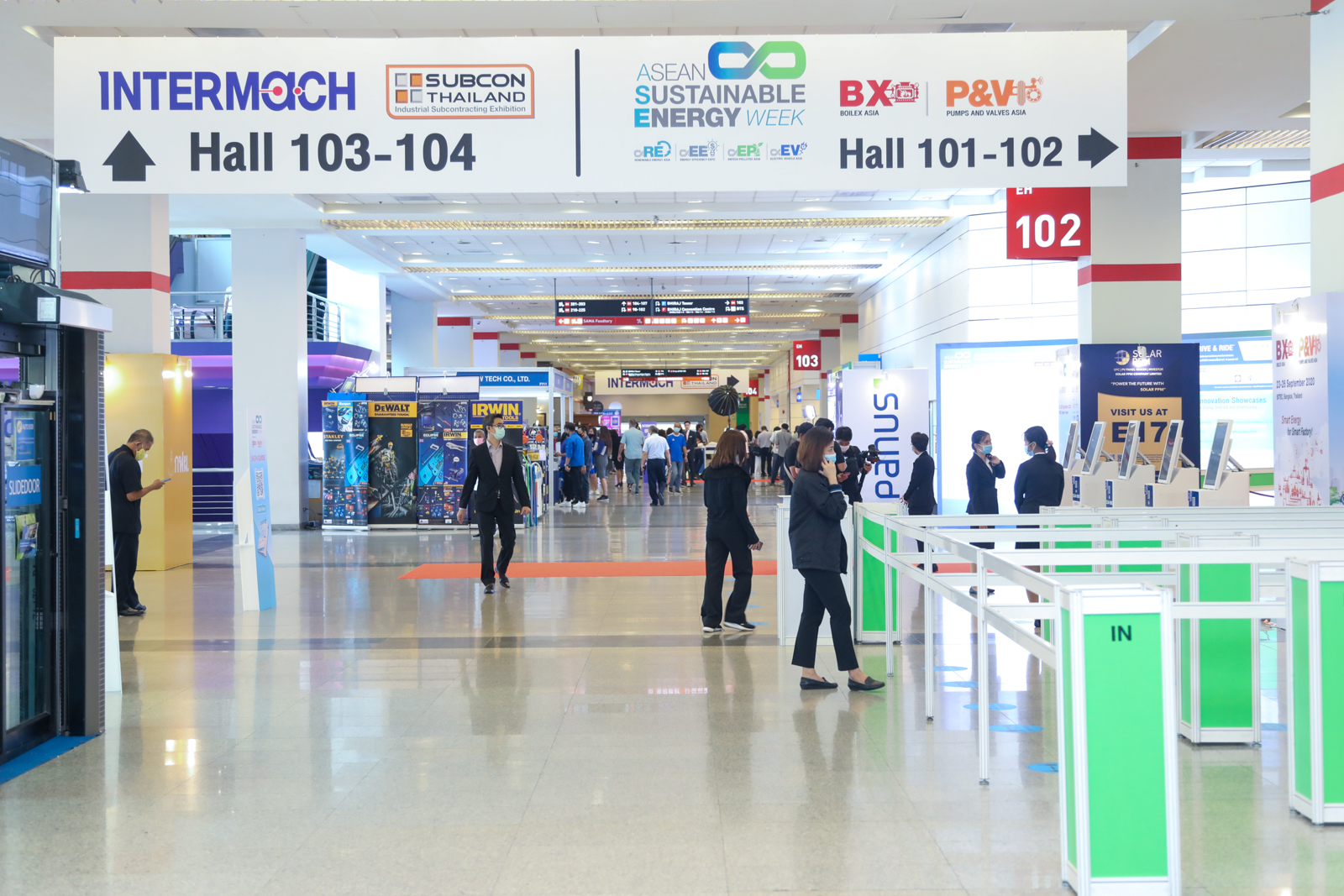 To push business beyond boundaries, Bangkok International Trade and Exhibition Centre (BITEC), the leading venue in Thailand and Southeast Asia, introduces full range of technology for online conference and meeting, allowing for transition into the new normal digital age, answering the needs of Thai and foreign event organisers.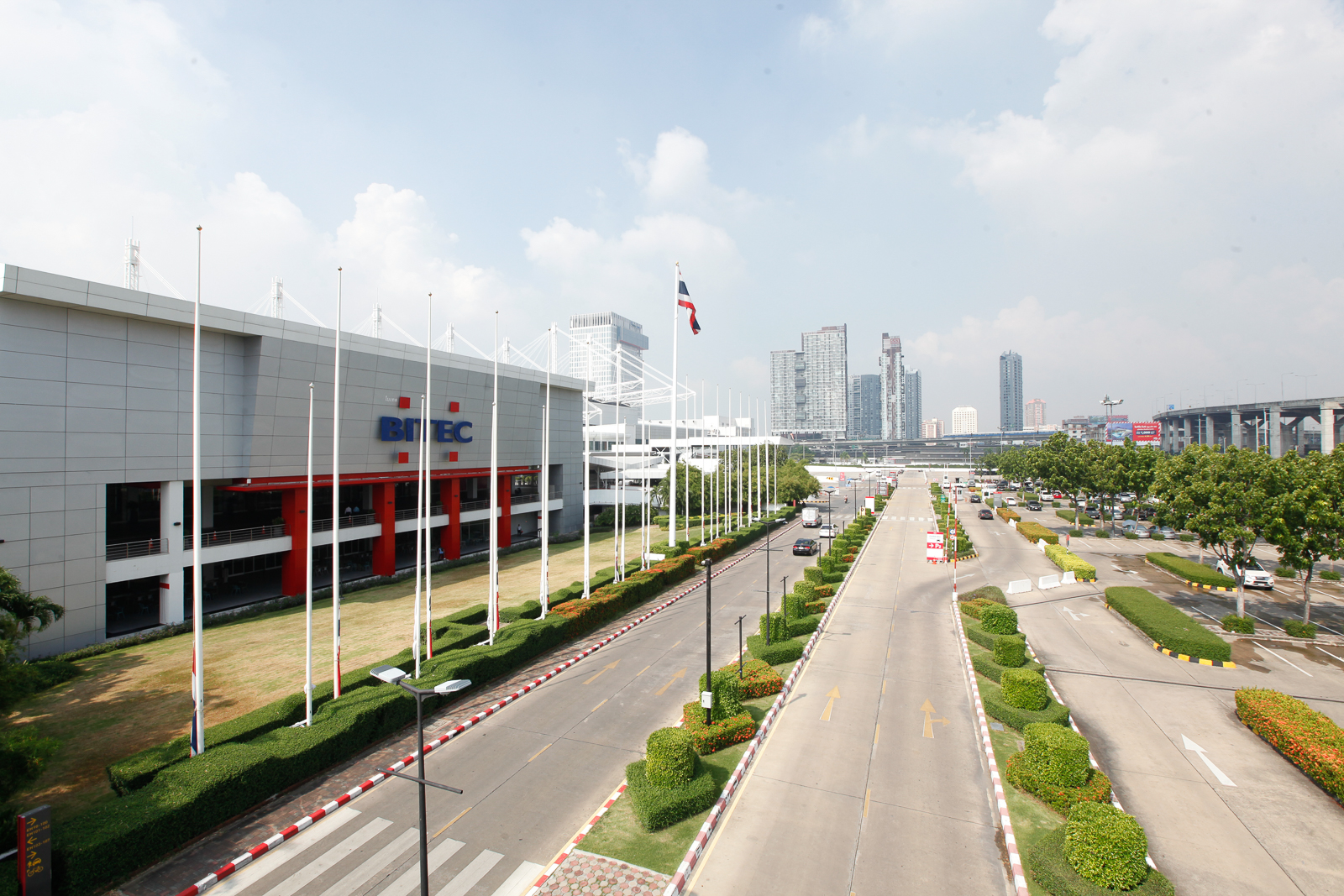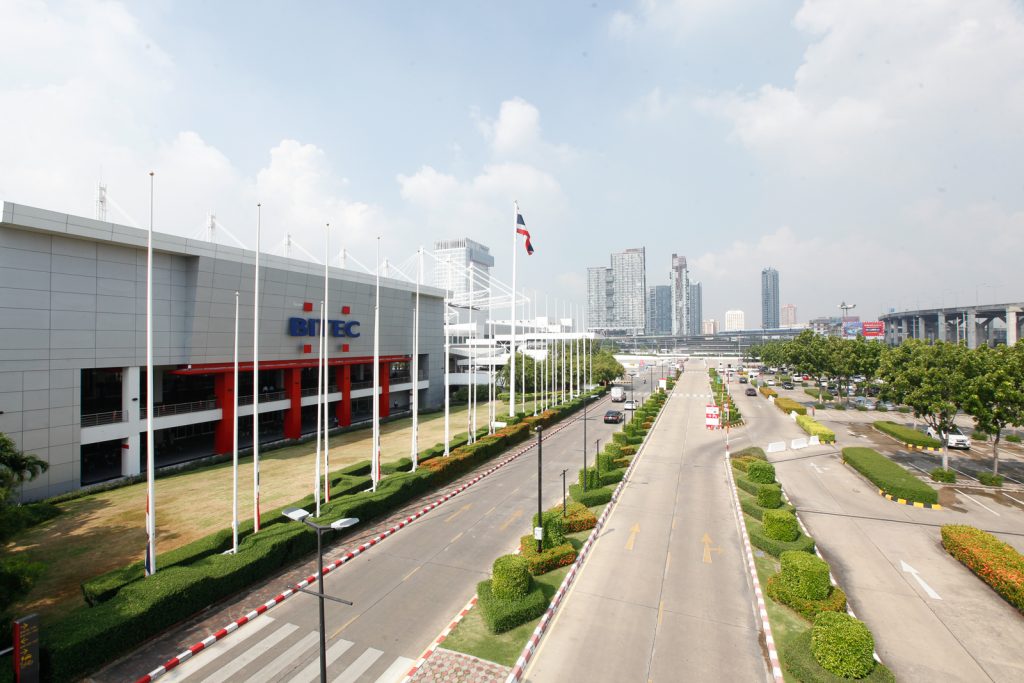 Bangkok International Trade and Exhibition Centre (BITEC) announces its readiness to become an international standard MICE venue for domestic and international events with awards received in 2020 for outstanding facility in standard security and safety of the venue, environmental management, crisis management of venue and food safety in mass catering. 
Despite a new wake of COVID-19 pandemic in Thailand, Bangkok International Trade and Exhibition Centre (BITEC) announced the centre remains open with both Thai and international events still going as planned. Following the government policies and guidance, BITEC coordinates with all relevant sectors to ensure employees carry out the international standards security and hygiene when performing duties and delivering services.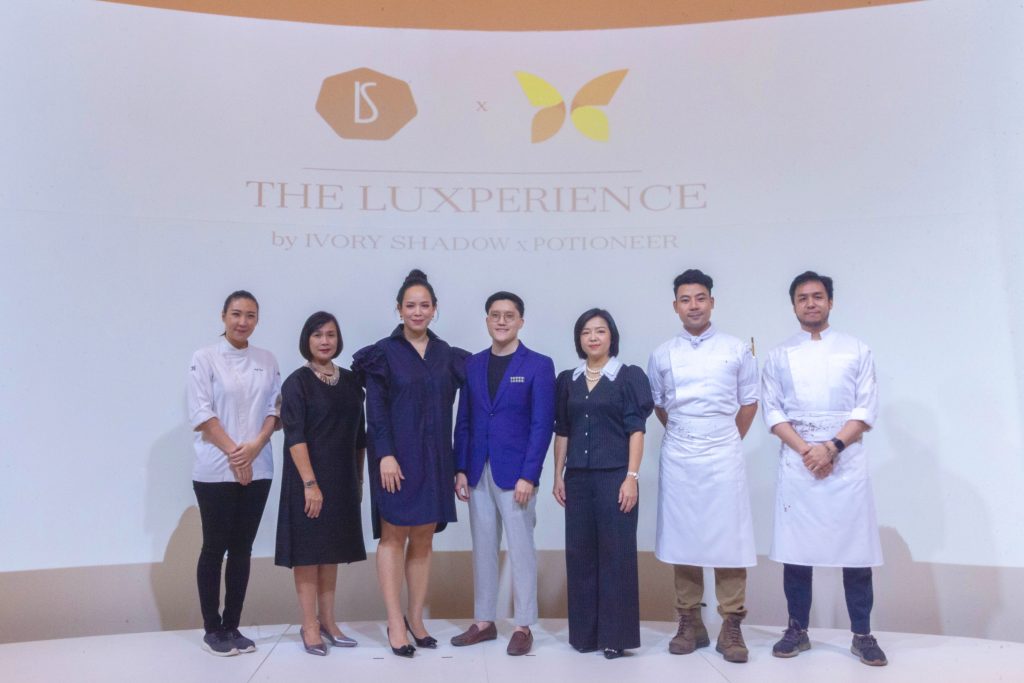 IVORY SHADOW, the world-class event and conference hall in the centre of Bangkok, is partnering with fine dining experience designers Potioneer to introduce 'Chefs Table, The LUXPERIENCE by IVORY SHADOW x Potioneer', a tailored luxury brand experience that combines customized dining with exclusive hi-end events. The LUXPERIENCE concept is designed for high-value brands to host unique and intimate events, and creates a new model of excellence for Thailand's MICE industry.
certificate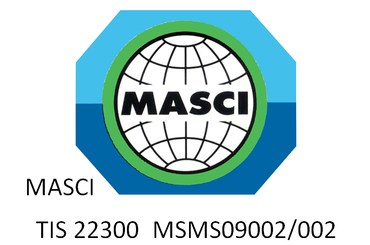 2015 – 2020
MICE Security Management System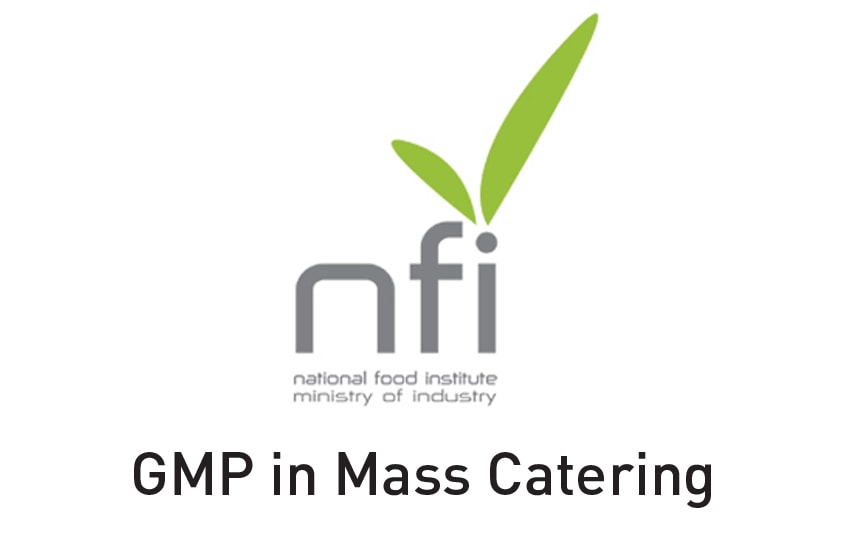 2015 – 2020
Certified for Gold Class Food Safety Standard Mass Catering by the National Food Institute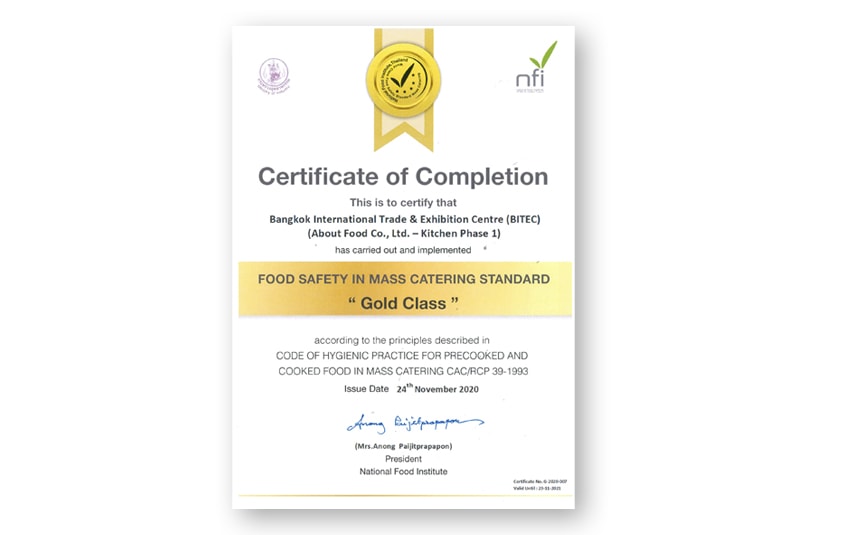 2014 – 2020
Food Safety in Mass Catering Standard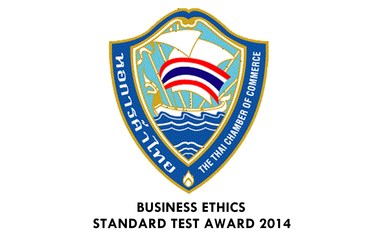 2014
Obtained the Thai Chamber of Commerce Business Ethics Standard Test Award